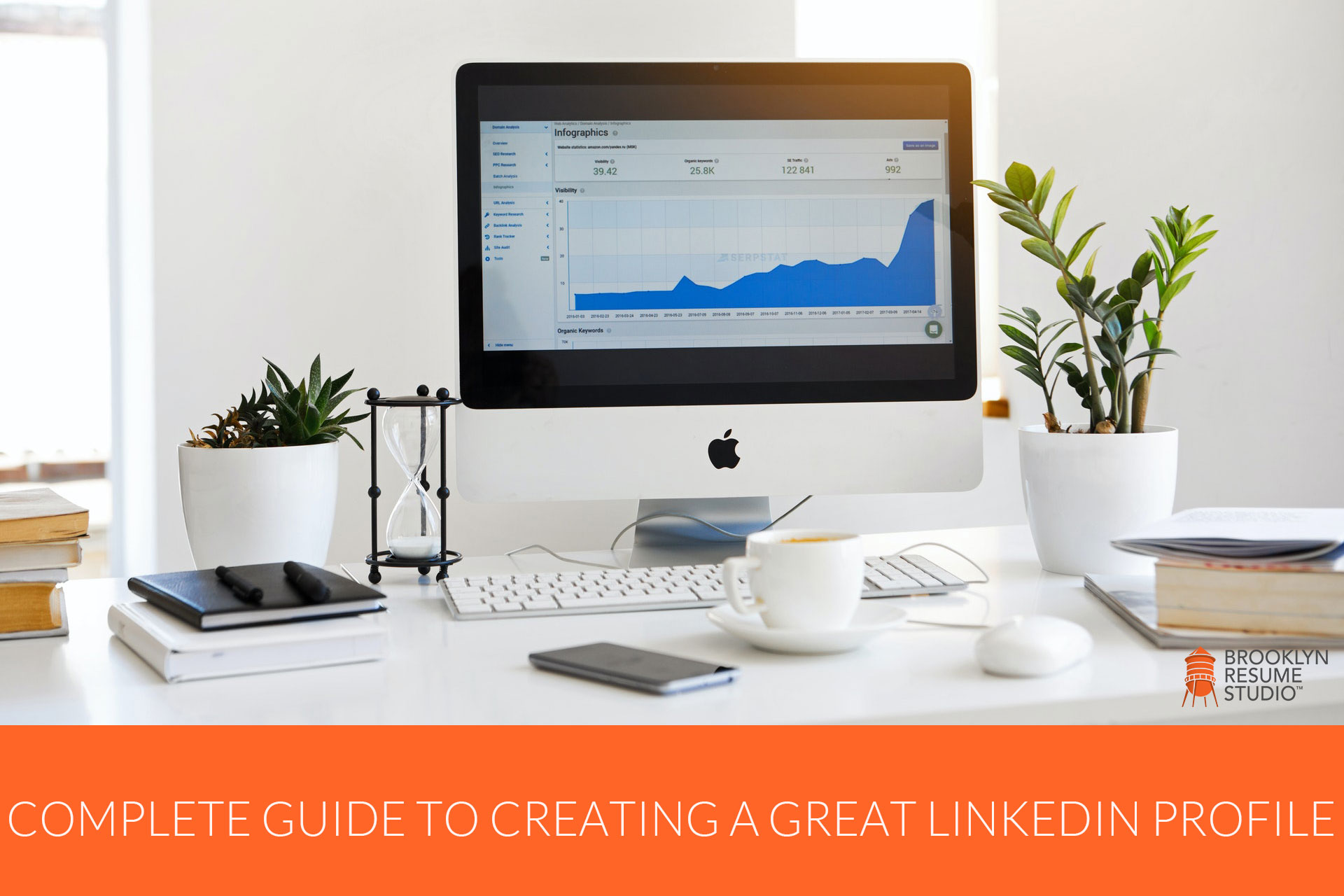 Your LinkedIn profile is the cornerstone of your digital brand presence, and – along with your resume – a critical tool in your job search portfolio. More than 95% of recruiters and hiring managers actively use LinkedIn to source top talent. This complete guide to creating a great LinkedIn profile provides you with the know-how to create a polished, professional portfolio that will significantly increase your chances of standing out among the competition.
With over 200M active members and more than 15M job listings, LinkedIn is a valuable tool for professionals across all industries, regardless of whether or not you are actively (or passively) looking for a job.
Continually updating your LinkedIn profile with relevant, keyword-rich information an important part of maintaining an effective presence. LinkedIn uses algorithms to assess a member's profile quality based on several key pillars that focus on relevancy, engagement, and activity patterns. A completed profile, meaning, all primary sections are populated with content – has a much higher chance of showing up in relevant search queries based on title and skill set.
Where to Start Building Your LinkedIn Profile
Focus on building out the primary sections on your profile. These include:
Headline
Profile Summary
Work Experience
Education & Training
Skills & Endorsements
Profile Photo
Start With a Strong LinkedIn Headline
How Long Should Your LinkedIn Headline Be?
Your headline is a brief description that appears next to your profile in search results, and at the top of your profile when a viewer clicks on your page. You can include up to 120 characters of text to describe what you do, whether that's a brief description of your current job title. Avoid using symbols, emojis, or other characters in your headline, as they are not searchable.
What to Include in Your LinkedIn Headline
Your profile headline should be optimized for keywords and phrases closely related to the types of roles you're targeting. It is acceptable to use your current job title so as not to raise red flags among your employer if it's relevant and descriptive of your specialty. Or you can create a broader, concise description of your expertise. Avoid using overly creative titles that don't accurately represent your function, and stick to keyword optimized, common search teams.
Examples of Good LinkedIn Profile Headlines:
Strategic Marketing Manager for Luxury & Lifestyle Brands
Social Media & Content Marketing Consultant for the Hospitality Industry
Key Account Manager at XZY Company
Create a Concise & Impactful Profile Summary
How Long Should Your LinkedIn Summary Be?
The summary section of your profile provides a concise overview of your skills and experience and can include up to 2000 characters of text. Pay attention to keyword optimization, and include a brief bio that integrates important search terms relevant to your current role and target job opportunities.
How to Write a Profile Summary
Similar to your headline – and much like your resume – the summary section of your profile should accurately describe your experience, skills, and strengths, and be keyword optimized based on the roles you are targeting. As LinkedIn is a less formal platform than the resume, using either first-person or third-person voice is acceptable.
Summary Example 1 (First-Person):
With more than 10 years of experience in healthcare, wellness, and fitness industries, I am passionate about bringing holistic health and beauty practices to women across the globe. As a certified yoga instructor and trained holistic expert, I strive to create accessible and engaging solutions that support stress management and healthy lifestyle goals. I have been an avid practitioner of meditation for more than 15 years, and try to integrate aspects of mindfulness in all areas of my work.
SPECIALTIES: Health & Wellness Programs, Project Management, Corporate Event Planning, Product Education, Communication, Relationship Building, Marketing, Sales
Summary Example 2 (Third-Person):
Michelle is an expert resume writer, personal brand strategist, and trained career coach who has helped thousands of professionals in areas like marketing, design, technology, fashion, sales, and finance navigate career transition and job change. With over 15 years of recruiting, consulting, and HR experience, she advises clients on strategies for successfully navigating the most competitive job markets and maximizing their earning potential.
Michelle is the founder of Aspyre Solutions, a New York-based career consulting and job placement firm, where she leads a team of HR specialists in placing top talent at organizations across the US. She has been recognized as an influential expert on hiring, job searching, and career transition by Forbes, USA Today, and Fast Company.
How to Represent Experience & Education on Your Profile
Experience
There is no one correct way to present your experience on LinkedIn. Profiles range from minimal information (job titles, dates, company names), to copying and pasting information straight from the resume.
As LinkedIn is designed to provide a high-level introduction to you as a potential candidate, aim to include concise descriptions that give a short, punchy description of your role. No need to go into full detail, and in many cases, it may be best to leave off numbers, accomplishments, or information that may be too specific for broader audiences.
While you can cut and paste bullets, LinkedIn's formatting options are limited. The best way to present your information is in short, descriptive paragraphs that are easy to read and scan.
Experience Example:
Senior Recruiter / Team Lead
Company XYZ
January 2015 – May 2018  | New York, NY
As one of the first members of a newly established recruiting division, I managed all aspects of talent sourcing, interviewing, and placement for clients in advertising, marketing, design, media, and technology. As a team lead, I implemented marketing and growth strategies, financial goals, client service, and internal hiring protocols to ensure continued growth and profitability. I led the group in recruiting over 200 multi-level job seekers annually while cultivating relationships with top advertising and marketing agencies.
Education & Training
The Education section should list credentials such as undergraduate and graduate degrees, certifications, training, courses, or other professional development accolades from college and beyond. While including your high school diploma is typically not advised, some professionals will include their school for alumni purposes.
LinkedIn also offers a separate section to highlight professional certifications and courses under the Accomplishments section.
Highlight Your Top Skills & Endorsements
Skills & Endorsements
Including relevant skills in your profile is a great way to showcase your abilities while ensuring the profile is optimized for keywords. Select ones that are most closely matched to your experience, expertise, and skillset, and go with common terms that are likely to be searched.
The skills you include in your profile can be endorsed by your connections, and you have the option to select 3 Top Skills to appear at the top of your list.
Recommendations
While the number of recommendations no longer factors into your completeness score, having at least 2-3 recommendations adds credibility to your profile and allows you to apply to certain opportunities on LinkedIn's job board. Aim to include a mix of recommendations that show various working relationships with peers, supervisors, clients, or direct reports.
You can request a recommendation from any of your first-degree connections using LinkedIn's form. Your connections must submit the recommendation through their own account at which point you will be asked to approve it before appearing on your live profile.
You can upload media and other files – such as letters of recommendation or references, but only within the summary or experience sections. If you have examples of your work, these would also be good places to highlight those or provide a link to a portfolio or other site.
Can my LinkedIn Profile Replace a Resume?
Your LinkedIn profile is not designed to replace your resume but it should complement it as part of your job search tool kit. The goal is to create a consistent brand presence across all platforms. Both the resume and profile should communicate a similar message, with consistent titles and information so there's no discrepancy between the two.
It is not uncommon for hiring managers and recruiters to cross-check an applicant's resume with their LinkedIn profile, and vice-versa. Make sure that both your resume and profile remain up to date and in sync as far as your current role, previous positions, headline, summary, and skill sets – so that you're putting your best foot forward.
Recruiters will also look at your activity on LinkedIn (and social media, in some cases) to see how active you are within your industry – whether that's in group discussions, sharing relevant content, or following companies of interest in your field. To avoid any discrepancies, make sure your resume and LinkedIn profile are closely matched and speaking to the same qualifications, job titles, and audience.
Even if you're not actively looking for jobs, having a polished, professional LinkedIn profile will increase your chances of standing out to hiring managers, enable you to cultivate and leverage valuable industry connections, and provide access to key job opportunities. It will immediately increase your visibility among like-minded peers while also strengthening the overall credibility of your personal brand.
LinkedIn Features & Privacy Settings for Your Job Search
After your profile is complete, take advantage of the many great features LinkedIn provides for job seekers.
Also, make sure your privacy settings are optimized for your job search.
Ready to craft a winning profile? Contact us, and we'll work with you to build your presence and develop a keyword-optimized LinkedIn profile that gets hiring managers' attention.