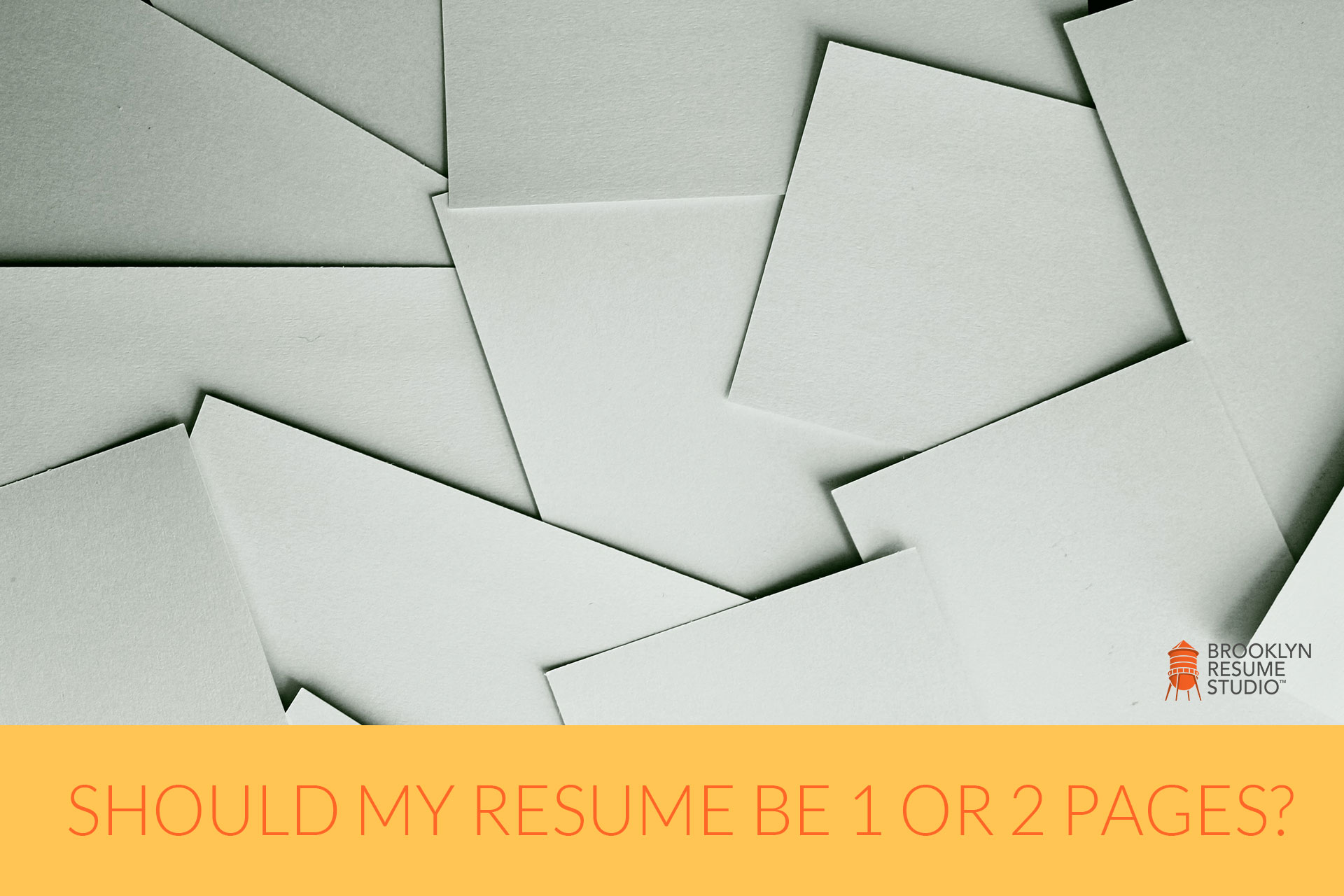 A common challenge job seekers of all levels face is determining whether their resume should be one or two pages long. How long your resume should be depends on several factors, including your experience level, the number of jobs or employers you've had, and your industry.
The "Resume Should Only Be One Page" Rule
It used to be a hard rule that the resume should not exceed one page, back when documents were printed and there was less dependence on screens and devices.
These days, it's typical and acceptable to have a two-page resume, so long as it's optimized screen reading. This is particularly true for more senior candidates who have amassed more experience in their career, and are likely to have a longer list of responsibilities, roles, and accolades to show. 
Some industries, such as science, technology, engineering, and academics, utilize the longer curriculum vitae (CV) format, which can run three or more pages in length. This is less common in the US with the exception of certain fields, typically in STEM (Science, Engineering, Technology, Mathematics).
Whether your resume is one or two pages (or more) in length comes down to how much relevant information you have to work with and which resume format will allow you present it in a concise and readable way. 
When Should a Resume Be Two Pages? 
A two-page resume is completely acceptable for most senior-level and some mid-level professionals. Job seekers often hit the two-page resume market around 8 to 10 years into their careers. By this point, they've had multiple jobs, usually multiple employers, and are starting to add various accomplishments and accolades that take up additional space on the resume. While it's possible to condense it down to one page, you may risk cutting out valuable information that is of interest to hiring managers.
In most cases, a junior and mid-level resume should be kept to one page. Including too much detail can detract from your message and draw the focus away from your professional experience. A junior or mid-level resume will likely include less experience than a more senior candidate, and less detail, and require less space to articulate the key points.
Optimize the Resume Layout for Scanning
Cramming your resume onto one page will make it difficult to read. An effective resume is one that your reader can scan through quickly while retaining key information.
Additionally, it should follow a logical hierarchy so that it encourages your reader to move their eye in sequence from section to section. This means being thoughtful in your use of formatting elements such as bold, underline, italic, and capital letters.
The resume should easily read from top to bottom, starting with your summary or objective statement, and then through your professional experience, education, professional affiliations, and other sections.
In what order you present the different sections of the resume should be based on relevancy, with the most valuable information in the top third of the page, working your way down. If your education is an important aspect of your qualifications for the job, it should go up top.
While it varies by candidate, a typical resume will follow this format:
Summary or Objective Statement

Professional Experience

Education & Training

Honors & Awards

Professional Affiliations

Skills

Additional Information
Omit Outdated Information
As you progress in your career, you should omit information that is no longer relevant, or that doesn't add value. This may include activities, clubs, and courses from college, which become less relevant as you gain more hands-on work experience.
The same can be said about your GPA. Often job seekers drop these activities around the 5-year mark, as they start to focus their resume more on professional accomplishments and less on academics.
If you're unclear whether or not to omit something from the resume, ask yourself whether it adds direct value to the types of roles you're targeting. If it's not mentioned in the job description, consider whether it serves as a talking point in an interview – such as an alumni organization, fraternity/sorority, or notable scholarship.
In Conclusion: How Many Pages Should a Resume Be?
Hiring managers generally do not have a "preference" when it comes to one or two page resumes. The goal is to create an impactful document that is easy to read, and that leaves your audience with a clear picture of the skills, experience, and qualifications that you bring to the table.
Curious what a one versus two page resume looks like? Check out some of our samples for different industries.
What Next?
A solid resume is the key to landing the job interview. We can help you customize a package and create a resume that gets better results. Contact us to get started.