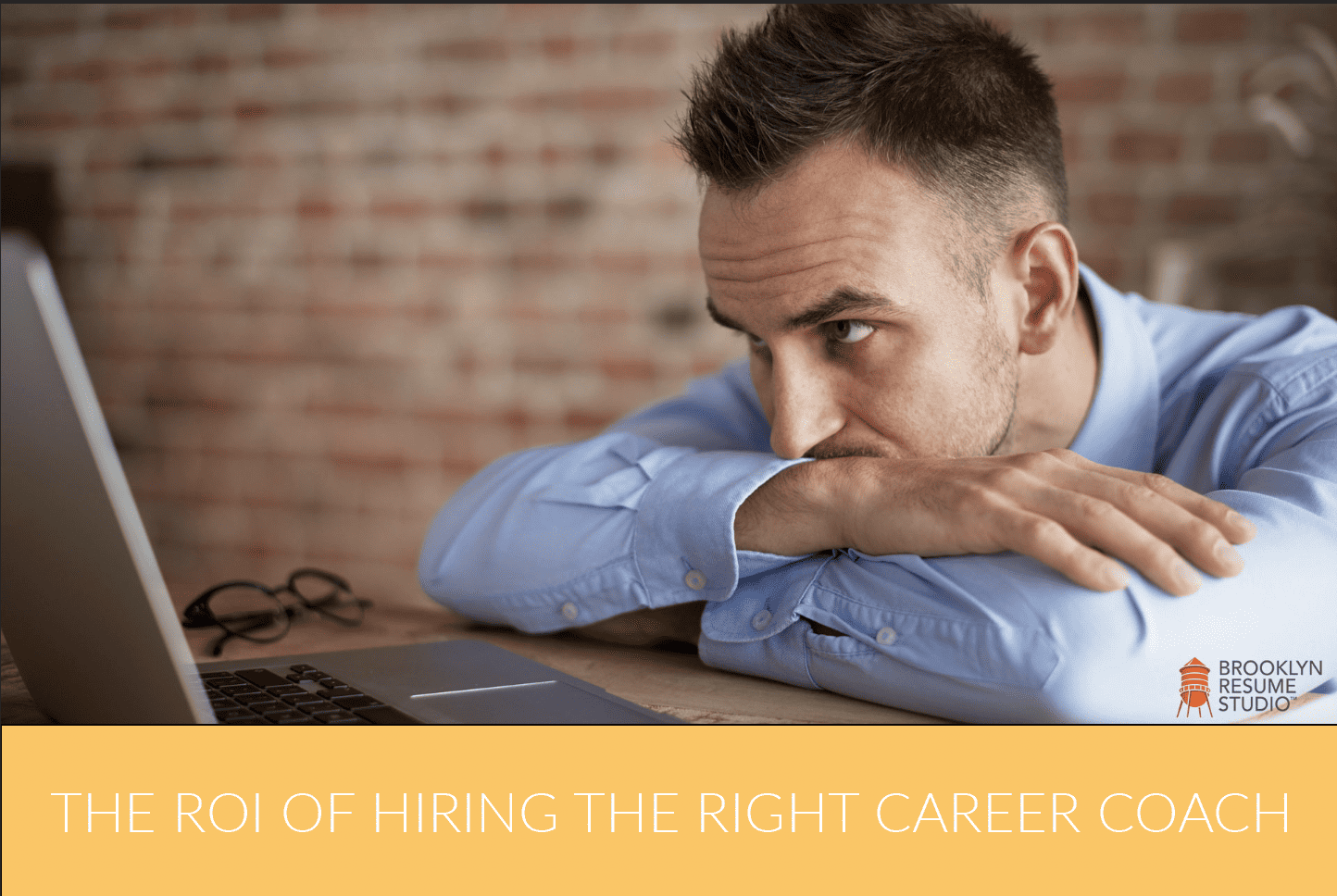 By Dawid Wiacek  |  Certified Career Coach & Resume Writer
If you've never worked with a career coach, you may be wondering what it involves (hint: it's not the same as therapy), what's the return on investment (i.e., is it worth your time and hard-earned money), and whether it's the right move for you at this point in your career.
These are all valid questions and concerns. And while the nature of the coaching experience can differ vastly from person to person, here are some things you can typically expect when engaging with a career coach—along with a few tips to increase the chance of a successful partnership.
1) Get clear on what coaching is—and isn't
Keep in mind that coaching is not therapy. Coaching is future-focused, helping you look ahead at what's possible. So rather than focusing on your past and wondering why you behave the way you do, a good coach can help you explore adaptive beliefs and constructive behaviors that can better serve you in the next chapter of your professional or personal life. If you're seeking to improve your communication skills, your interview chops, or your leadership competencies, a coach can be a tremendous help. But if you're looking for assistance with deep mental anguish or trauma, that is not the purview of coaching.
Coaching is also distinct from training. If you're looking for specific help with a technical skill like, say, Excel, seek out a specialist or trainer in that particular area. But if you've been stagnant in your career overall and resistant to learning or change, and you now want to broaden your horizons, a coach can help you move past atrophy, and start building up the confidence, mental fitness, resilience and momentum. This can then serve as the foundation and propel you to amass new capabilities and conquer new skills.
An oversimplified way to think about it: the trainer gives you the fish. The coach can inspire and empower you to learn how to fish. As a coach, I sometimes think of myself as the spark, but the action and all the heavy lifting is done by my clients.
2) Clarify the type of coach you're seeking
Nutrition coach? Career coach? Executive coach? Business coach? Public speaking coach?
The list of coaching areas is endless. There's a coach for virtually everything these days. And even within career coaching, some coaches focus on specific niches, industries, or phases (entry-level vs. executive-level, academia, nonprofit, corporate, career changers, interview coaching only, leadership coaching, etc.). Other coaches focus on your whole being, meeting you where you're at and helping you gain the professional skills and confidence you seek.
As a career coach, I work with all types of clients—not just those who are seeking a new job. Many of my clients are looking to grow within their respective organizations, flex their creative or leadership muscles, build other skill sets, or challenge themselves to grow professionally—as public speakers, emerging leaders, or just more thoughtful, compassionate, productive, and collaborative employees.
Be clear on what you're seeking. A good coach will let you know exactly how they can (and can't) support you.
3) Test out the relationship
Many coaches offer at least a brief discovery call (usually around 15-30 minutes) to meet over the phone or Zoom, learn about your needs and goals, and give you a sense of their approach, personality, and overall vibe. The success of the coaching engagement depends on the chemistry between coach and coachee, so a quick chat can give you an impression of whether you see yourself meshing with this person for the longer term.
On the off chance that the coach is unavailable or doesn't offer an introductory call, at the very least do some research: check out the coach's website or LinkedIn profile, watch a few minutes of their videos, or listen to a podcast clip, just to get their vibe.
4) Remain open-minded—and expect to be challenged 
As is the case in fitness training, if you don't increase the weight or frequency of resistance, you won't see much improvement in muscle tone or size. in the same way, a coach's job isn't merely to cheerlead you—it's to help you develop and grow new approaches, ways of thinking, and behaviors. If all you seek is approval and validation, talk to a trusted friend. A coach's job isn't just to coddle you, but to help you become a better version of yourself.
If you're a middle-aged IT professional, don't only seek coaches who have experience or expertise in that particular area. Expand your perspective. While there is something to be said for seeking coaches who resemble and represent you (though often, that comes with benefits like validation, comfort and psychological safety), but in fact, sometimes it's precisely a different upbringing or industry experience that offers a unique perspective and can broaden your horizons about what's possible.
5) Set clear goals and direction
In a typical coaching engagement, you should be the one driving the agenda. The coach can steer and guide, but you set the destination. A coach can help support and keep you accountable, but you're the one who defines the goals.
Now, if you're indeed feeling lost and struggling to define your goals at the very beginning of the partnership, that's okay—but be open, transparent and clear about that. You may not have it all figured out in your career or know exactly what you're seeking on a personal level, but a seasoned coach can help you get clear. For example, they may ask you about your core values and motivations, beliefs, preferences, and the like—and use those to start building a sort of scaffold to help you identify future goals that, in turn, will shape the actions, behaviors and mindset you'll explore with the coach.
6) Be ready to put in the work. Are you ready?
Coaching can be serious, it can be fun, and usually it's some blend of the two, but for it to work—i.e., for you to see any progress—you'll have to put in the effort. You can't expect the coach to swoop in there and solve all your problems for you.
The coach isn't a consultant. The coach is someone who can help you walk through the fog and clarify what is important, define your goals, and provide tools to help you achieve them on a realistic timeline, all the while helping you stay accountable. But if your heart is not quite in it, and you constantly cancel or reschedule your sessions (or simply don't show up), that is very telling. And some coaches charge cancellation/rescheduling fees to protect their time and respect their commitment, so ask about their policy before you buy.
During the sessions, it makes a huge difference if you're honest about your own progress, internal doubts and obstacles—even if you're doubting the effectiveness of the relationship with the coach. No one is perfect or at 100% all the time, but if you're transparent about what is and isn't working, a good coach can recalibrate and revisit expectations for the rest of the engagement. Coaching isn't always difficult, but it's not always a walk in the park, either. Some coaches give clients homework between the sessions, but of course it's up to you to complete the exercises.
Ask yourself: am I ready? It's possible you need to do some introspection before you even hire a coach. And if you're not quite sure, have an intro chat (see earlier point) with a coach to help you determine whether now is a good time and whether you might benefit from coaching.
Remember that coaching often takes some time. It isn't transactional. Growth and change are often slow processes (although epiphanies and sudden insights can and do occur). So be patient with yourself—at least a good coach will be.
7) Build upon and leverage momentum
Coaching isn't for everyone, and it also may not be necessary at every point in your life. If you find that working with a particular coach has been fruitful, explore the possibility of continuing the engagement in other, related areas of your life. For example, I sometimes have clients come to me for confidence building and getting over impostor syndrome, and after growth and success in those areas, the work might move to communication of leadership skills. It might end there, or sometimes it leads to the realization that they want to change industries or pivot their career entirely.
Many coaches rely on personal referrals, so if you've had a great experience, tell your family, friends or peers about it—and the coach will certainly appreciate the word-of-mouth advertising. It's a small but powerful way to express your gratitude to the coach.
8) Be ready to have some fun!
This is last on the list, but certainly not the least important. A good coach will help you laugh, celebrate wins, and enjoy the process of self-discovery. It's not all doom-and-gloom. Coaching can be fun, so find a coach who seems like they're having a blast—while, of course, bringing you joy along the way.
Curious about how coaching can help you move forward in your career? Contact us and we'll help you customize a plan to meet your goals.
—
Dawid Wiacek is a career coach, executive coach, and resume writer who helps his clients overcome career obstacles, endless excuses, as well as personal fears and insecurities to land more fulfilling, better-paying jobs.