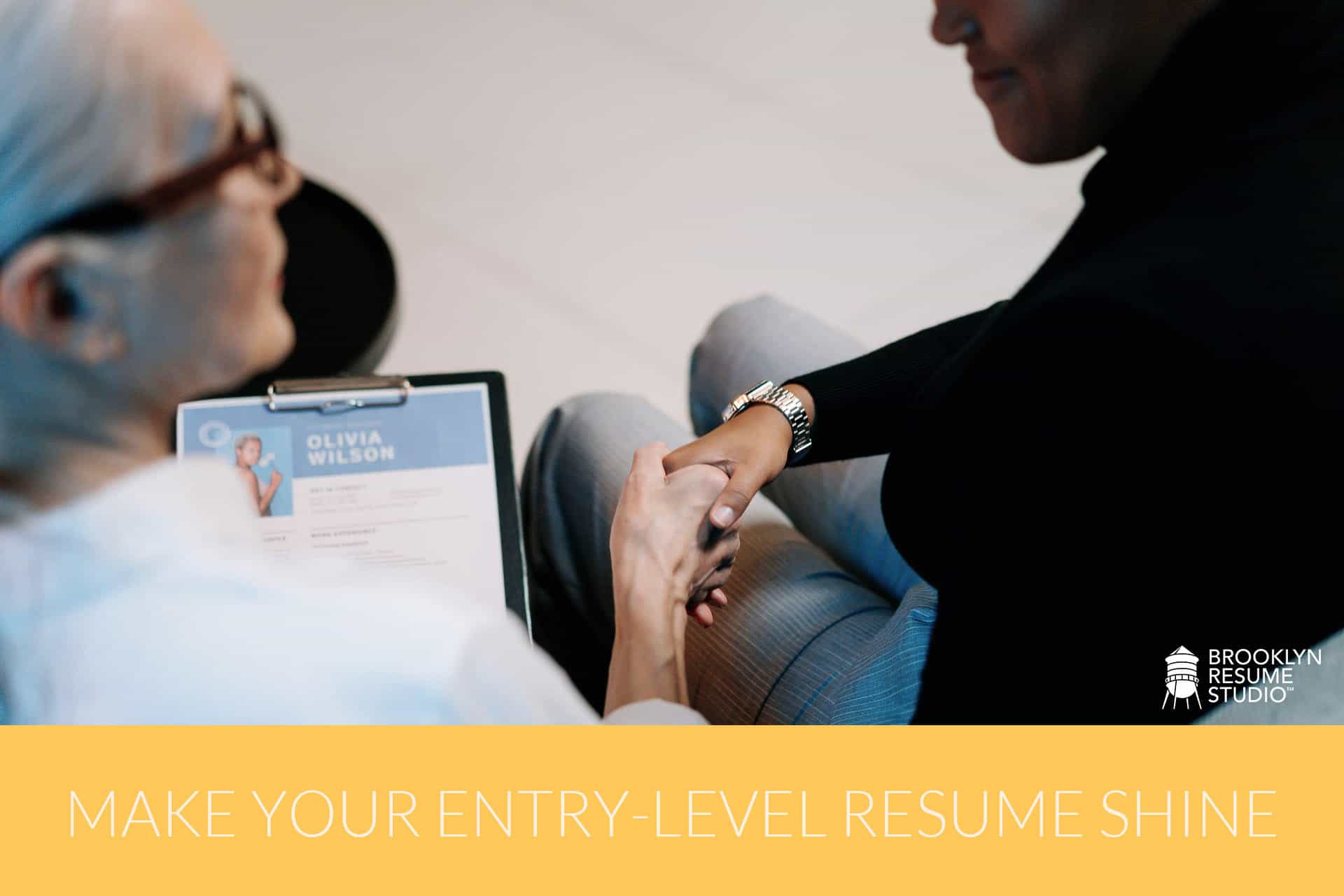 The term "entry-level", or "junior-level" typically refers to candidates with less than 5 years of professional experience, and can include those looking for their first job or targeting an internship to build experience. An entry-level resume is a bit different in that you have less experience to showcase, and need to determine which parts of your background and skill set speak to your potential.
Because of that, some of the typical resume strategies may not apply here – you often don't have tons of accomplishments, or results-driven statements to work in, as early experience, like internships are more about learning than creating impact. However, the resume can still communicate a unique story around your professional and personal development, and that includes a number of things.
To get started, consider the basic sections of the resume and work from there in creating interesting content and providing details around your experience, skill sets, and accomplishments. These sections might include:
A Summary (preferred) or Objective Statement
Skills (Software, Hard / Soft Skills, Languages)
Education (Degrees, Programs, Coursework)
Processional Experience (Internships, Part-Time Jobs, Full-Time Jobs)
Volunteer Work (Projects, Organizations, Pro-Bono Work)
Memberships & Affiliations (Clubs, Sports, Member or Trade Organizations, Student Groups)
Honors & Awards (Academic Honors, Scholarships, Community or School Awards, Athletic Accomplishments)
Personal Information (Hobbies & Interests, Languages, Athletics, Other Activities)
Lost on where to begin, or how to improve your existing resume? Start with these 5 tips to make your resume stand out and look polished:
Introduce Yourself With a Summary
The summary section on a resume is the first thing that the recruiter or hiring manager will read, and it sets the tone for the rest of the document. It's an ideal place to brand yourself and create a profile around the type of candidate you are, and how you want to be perceived. A strong summary should uniquely describe your background, relevant experience, and skill set – along with any other pertinent information you don't want hiring managers to miss. For example:
Graduate in online marketing with experience developing, tracking, and managing campaigns across social and digital marketing channels. Well-versed in digital marketing tools including Google AdWords, SEO/SEM, Facebook, Twitter, WordPress, HootSuite, and MailChimp. Skilled at developing original content for social media, digital marketing campaigns, websites, and blogs. Passionate about furthering expertise in the technology and design fields.
Show Potential Along With Experience
Entry-level resumes aren't just about what you've done because you don't have much experience at that point. With that said, they're also about showing potential, and you can do so by describing not only your tangible experience, but things you have done that speak to your interests and skillset – such as volunteer work, pro bono or freelance projects, or classes that you're taking.
Highlight Your Most Relevant Projects
Avoid cramming in extra or too much information. Instead, if you've worked on a lot of projects – whether through school, an employer, or on your own, choose a few highlights that represent your best work. The rest you can discuss in the interview, or use as examples in another context, such as the cover letter, your website, or on LinkedIn.
Focus on Relevance Versus Detail
Outlining every detail or responsibility is also not necessary. Keep the resume concise by primarily highlighting the responsibilities and accomplishments most relevant to the company and role.
As you progress through your career, consider what things might no longer be necessary – such as GPA, collegiate activities or affiliations, or coursework. Experience prior to college can generally be left off once you're a few years into your career. You might make an exception for relevant volunteer or entrepreneurial work.
Be Thoughtful About Design
Avoid unnecessary visual elements that take up space, unnecessarily large margins, excessive formatting, or too-large fonts. This is a common mistake entry-level job seekers (and many others) make to draw attention away from a lack of experience, in hopes of making the resume stand out. Unfortunately, that tactic generally does not work.  Hiring managers would rather see a clean, polished resume that describes a candidate with potential, than a flashy resume with few details.
Finally, be sure to update your resume regularly as you gain experience, take on new projects, acquire additional training, or refocus your career path. As you build career momentum and develop professionally, so too should your resume. Make sure that you're always putting your best, most relevant, and most up-to-date foot forward – so that you're providing hiring managers with an accurate picture of their next hire!
What Next?
It's a competitive job market, and we can help you create a solid resume that gets results. Check out our suite of resume and branded content services.