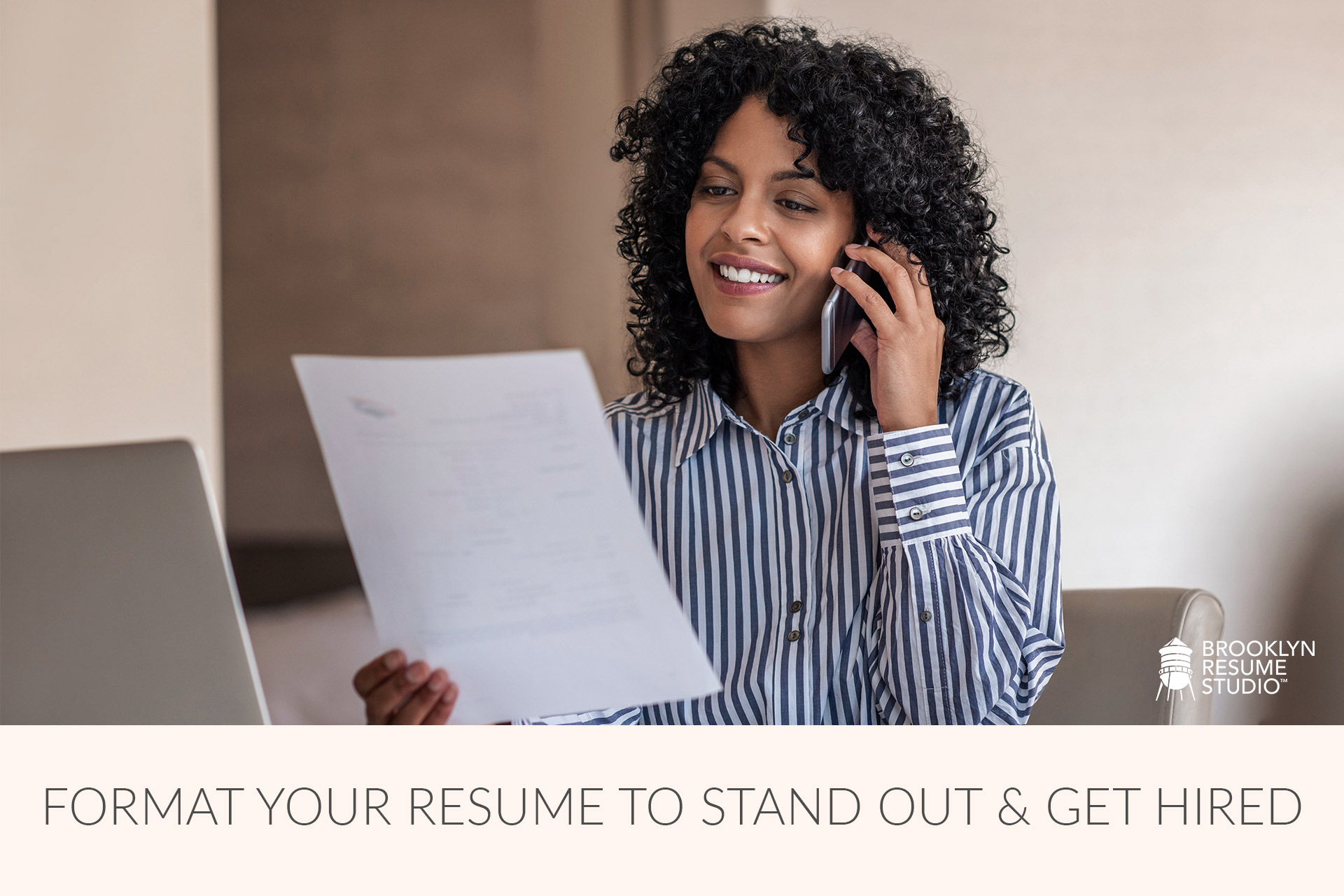 One of the most challenging aspects of the job search is how to make your resume stand out among hundreds of potential competitors. In today's saturated job market, it's critical that your resume follows key guidelines around design, content, and formatting to ensure that it appeals to hiring managers, while also meeting Applicant Tracking System (ATS) compliance.
An effective resume is a combination of well-written content (which includes relevant keywords) and attractive, optimized design. Falling short in one area will significantly affect the other. The details are key – everything from your font selection, to your wording choices, and whether you use bullets versus paragraphs for your job description will impact whether your resume makes it through the filter.
So how can you craft a winning resume that stands out in today's ultra-competitive job market?
Optimize Your Content for Keyword Relevance
Look at the common threads and keywords used in the job description, and make sure those are echoed throughout the resume. Identify the most relevant keywords – skills, attributes, job titles – that are used to describe the ideal candidate, and make sure those are used liberally throughout your resume.
It's important to follow the language in the job description as it may vary between companies and job listings. The way you refer to something in your field may not be the same way it's denoted in the job description. For instance, your resume may refer to your role as a "software engineer" while the job description uses the term "programmer" instead.
Communicate Responsibilities & Impact
An ideal resume is accomplishment driven, using a format of "Did A which resulted in B." For example: "Created social media posts that increased website traffic by 40% within one month."
But that doesn't mean you have to focus solely on numbers. Showing impact is all about connecting your day-to-day responsibilities with positive outcomes – in other words, how did your role directly contribute to the goals/objectives of the organization?
These can be metrics or figures – such as revenue growth, sales – but they can also be non-numerical aspects, such as creating a better culture, improving morale or engagement, contributing to the success of a high-profile project, turning around a struggling client relationship, starting a new group or division, or developing employees into higher roles to help the company retain its top talent. For example:
"Created standardized rules for tracking invoices that improved efficiency and payment processing timelines."
Include a Strong Opening Summary Section
Many people leave off the resume summary, and that's a huge mistake. Not only is your summary (or objective) an easy way to customize the resume to the role, it's also an opportunity to work critical keywords into the resume. It's the first section a hiring manager will read and helps set the tone for the rest of the document.
Utilize the summary section to talk about your level of experience, core skills and strengths, and other values that you bring to the table. Keep it to no more than 3-5 lines or bullet points and include relevant keywords from the job description. Get help with summary examples.
Format Your Resume So It's Easy to Scan
Your resume should be easy to scan/read as recruiters spend a maximum of several seconds reviewing your credentials. This means your job titles, company names, and dates of employment should be clearly defined, sections should be adequately spaced apart, and you are using concise bulleted lists or paragraphs to describe your role and responsibilities.
Get Creative With Color & Design
Avoid unnecessary graphics, decorative fonts, photos (in the US), and other visuals that detract from the content. Instead, opt for conservative use of color, clean, modern-looking fonts, and elements like bars to separate out sections and create an interesting visual flow. While an infographic resume may seem creative and attractive, it will not comply with ATS guidelines and can be difficult for hiring managers to read.
What is the Best Font for a Resume?
When writing your resume, choose a font that's easy to read on-screen, and that prints out legibly. Good choices include clean, modern sans-serif fonts, such as Helvetica, Arial, Franklin Gothic New, Avenir, and Century Gothic in 10 or 11-point size.
Bullets or Paragraphs?
Selecting the proper format for your resume comes down to how much information is being communicated within the description, and what method will enable the reader to easily scan through the document. You can opt for short paragraphs, a bulleted list, or a combination of the two.
If you use bullets, keep your list between 5-10 points, with each point taking up no more than 2 lines on a page. Or start with a 3-4 line paragraph summarizing your position, followed by supporting bullet points around your specific responsibilities and accomplishments. Lengthy bulleted lists and dense paragraphs are difficult to read and increase the chances that key information will be overlooked.
What's Next?
A solid resume is the key to landing the job interview. Don't let yours hold you back from the career you want! See our suite of resume and branded content services to help you stand out and get hired.
Related Links:
What Your Resume Should Look Like in 2021
Here's the thing about creative resumes…