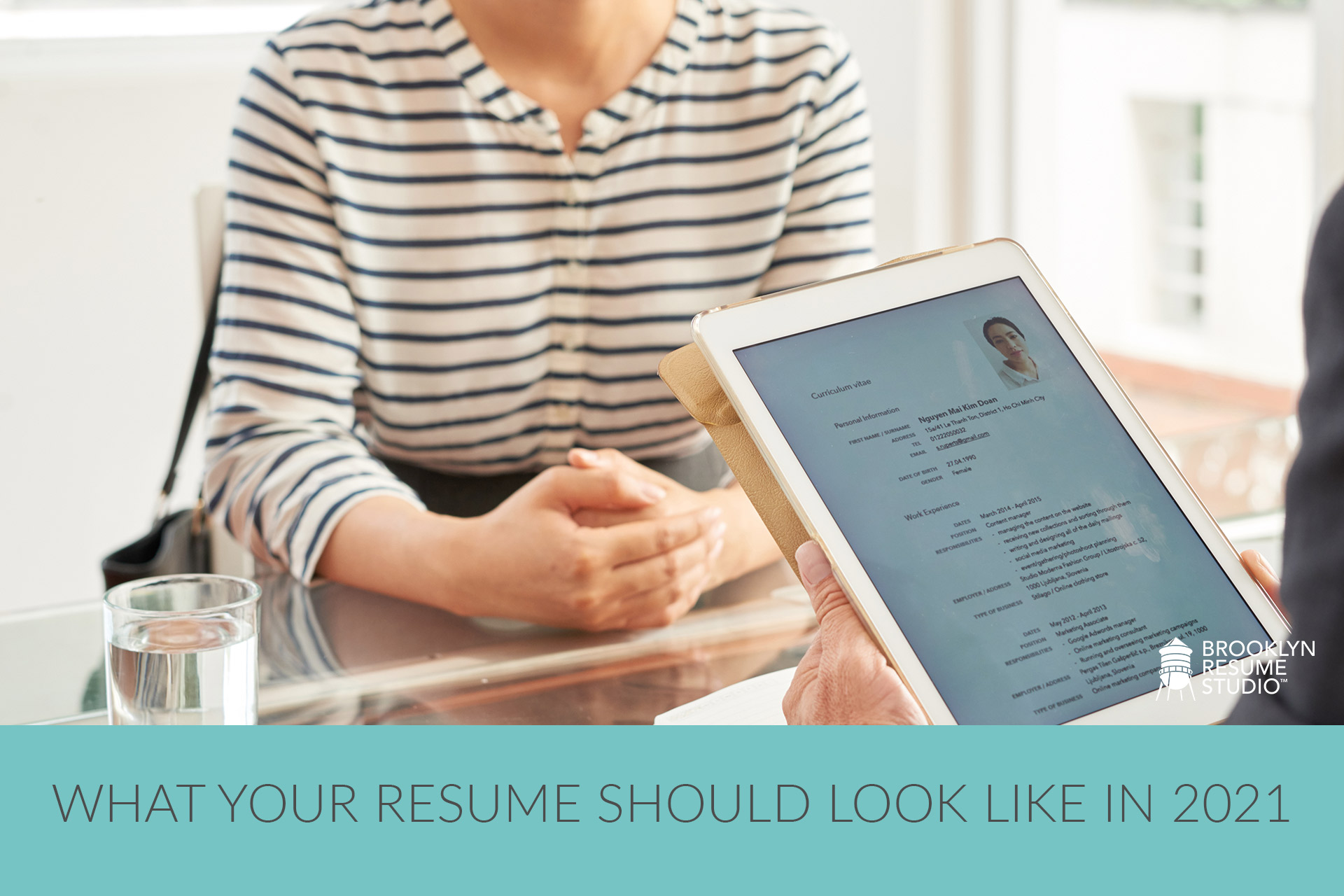 This article was written in partnership with Time.com.
The end of the year often marks a time in which hiring slows due to holidays, staff absences, and budgets drying up – and it also prompts active job seekers and potential candidates alike to think about their next move. If you've asked yourself any of these questions in recent weeks, know that you're not alone:
"Is my job or industry secure?"
"Is this the right time to be looking?"
"Should I be asking for a promotion – or more money?"
"Is it worth changing careers right now during a global pandemic?"
"Should I play it safe and stay where I am – or explore other opportunities?"
Whether you're casually looking, or prompted by unforeseen circumstances to look for a new opportunity, these final weeks of the year are an excellent time to get your resume up to standard, rework your personal brand, and ensure you're strategically positioned to take advantage of new opportunities in the upcoming year.
Fact is, many companies are still hiring. While certain sectors have certainly seen reductions in hiring activity and workforces, many others are still looking to grow and add qualified talent in the coming months.
What Does This Mean for Job Seekers?
BRS teamed up with Money.com to come up with the top tips and strategies to help job seekers create a winning resume that stands out in today's ultra-competitive job market.
1) The Best Resume Format
When it comes to resume format and design, opt for a clean layout. A recent study from the job site Ladders found that resumes with so-called F-pattern and E-pattern layouts, which mimic how our eyes tend to scan web pages, hold a recruiter's attention for longer than those aligned down the center, or from right to left.
There is no one standard font for resumes. Sans serif fonts usually work best — Franklin Gothic, Calibri, and Avenir (the last of which we used for the attached template) are three of Leavy-Detrick's favorites. You should use the same font style throughout, Leavy-Detrick says, but play with different weights and sizes to draw a recruiter's eye to key parts of your resume.
For smart job seekers, resumes are an opportunity — to make a case for their candidacy, to get the salary they've earned, and to convince any hiring manager they'd be crazy not to hire them.
Here's how to write the perfect resume — and free resume templates that you can download and use for your next job interview — to help you become one of those successful job seekers.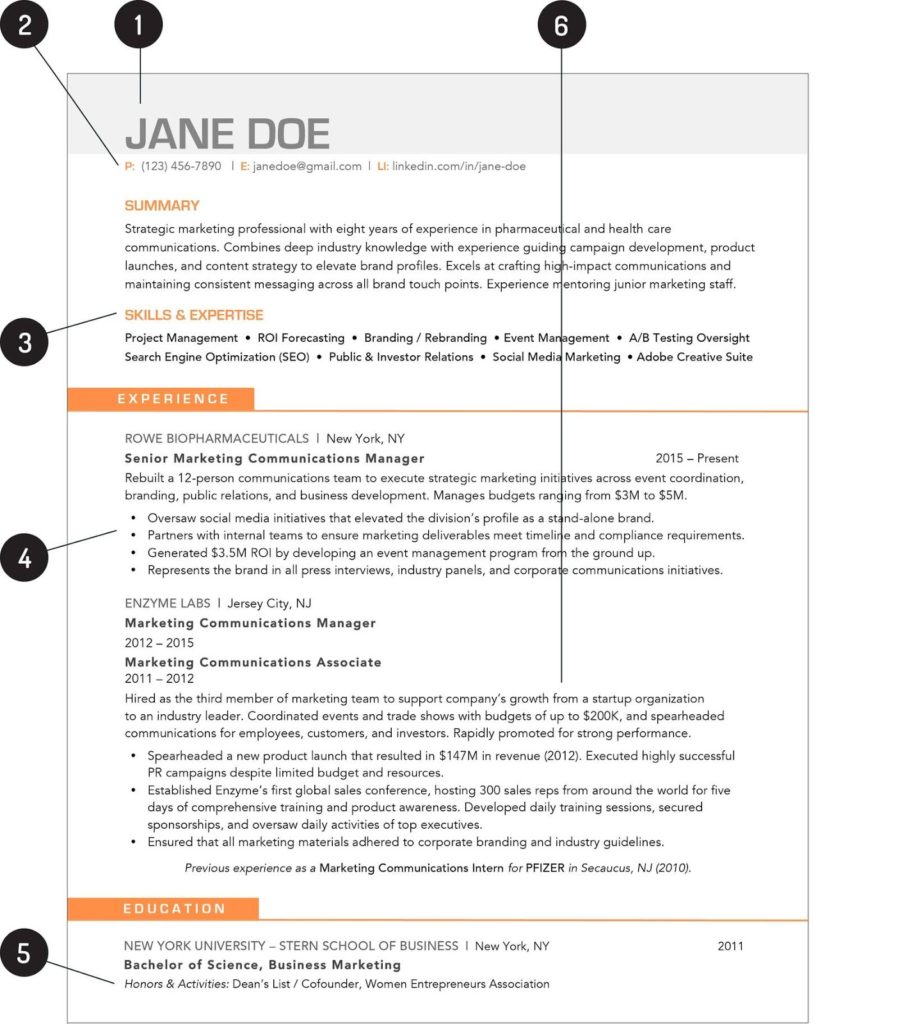 2) Make Your Resume Stand Out With Color
If you're applying for an investment banking job, a hot-pink resume probably won't do you any favors. But subtle pops of color, like the orange used here, will work for just about everyone.
"It's very minimal, and gives a bit of a design element," Leavy-Detrick says.
If you do use color, "Use it sparingly," she warns. "Stick to one color, and one color that's going to print well." (See other examples of color on resumes.)
3) Add a Skills Section in Your Resume
Lead with the good stuff. The top of your resume should include "critical keywords and a quick snapshot of your core strengths," Leavy-Detrick says.
Hard skills, tangible attributes that can easily be measured, take precedence here, so highlight them accordingly. If you're in a tech-driven field, software and programming expertise is what employers want to see on your resume. If you're in a creative industry, design and communication skills might be your best bet.
4) Create a Resume That Proves You're Worth it
To prove you're worth a hiring manager's time, highlight recent examples of what you bring to the table. Statistics that build upon your skills section are most impactful — bonus points if they show a track record of growth, revenue, and profitability, Leavy-Detrick says.
If you're drawing a blank, she suggests adding resume skills that can help solve a "problem area" for the company you're applying to.
"Impact doesn't always have to be measured by metrics," she says. "Cultural improvements, special projects, customer growth … anything that showed success can work."
5) What to Leave Off a Resume
Be discerning with the content — don't list salary requirements, use tables or columns, or tick off every job you've ever had. The same goes for social media profiles. Unless your Twitter, Instagram, and Facebook feeds are relevant to the job you're applying for, it's probably best to leave those off your resume.
"Only include them if they add value in some way," Leavy-Detrick says. "If you have zero followers, you may not want to advertise that."
6) Tweak Keywords on Your Resume for Each Job
Don't make the mistake of answering each job posting with the same generic resume. Instead, take a few extra minutes to mirror it to the keywords and phrases within the job ad. You'll be much more likely to make it to the next round of hiring, especially if an applicant tracking system (a computer program designed to weed out candidates out) has anything to do with it.
"Get as close as you can to the language of the job description, or at least look for common denominators," Leavy-Detrick advises.
7) Showcase Your Digital Technology Skills
For many professionals, 2020 also marked a shift to remote work environments requiring a new set of skills. No longer relying on the physical office environment, many individuals, teams, and organizations had to learn quickly how to work effectively without the typical support of an in-person infrastructure.
This meant learning new technology like video conferencing software, establishing new habits for time management, and maintaining focus while balancing the ongoing presence of family, home, and significant others.
How did you grow this year?
What new skills did you learn?
How did your productivity habits shift as a result of new work structures?
Were you an integral part of leading that shift for your organization in some way?
These are all great things to highlight on the resume since they hold relevance to many organizations that are still navigating the challenge of remote teams and workspaces. For example:
"Transitioned a 100-person office to a fully-remote work platform with minimal disruption to daily business operations."
"Consistently met performance goals despite ongoing organizational changes and restructuring."
"Coordinated weekly meetings with remote team members across multiple time zones."
What's Next?
Don't let an incomplete or badly formatted resume prevent you from being noticed in your job search. Contact us to find out how we can help you stand out and get hired.
The resume you created was fantastic! I went from getting zero callbacks to going on more interviews than I can even keep up with. –Alan L., Entertainment & Media