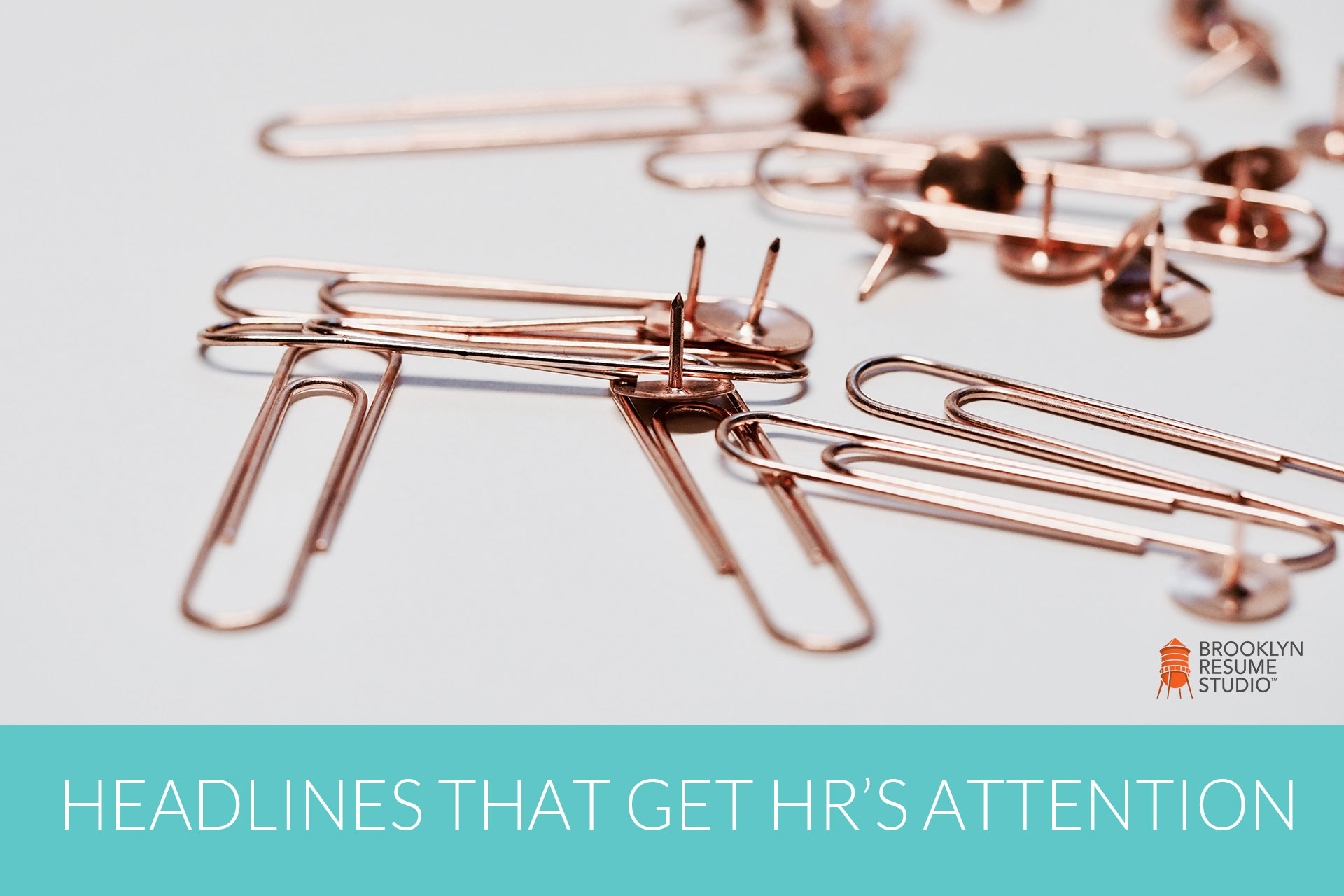 I know copywriters who get paid 6 figures a year to write one-line sentences on a page. Make no mistake, they write endless variations, edit countless more, argue with creative directors, and rework a multitude of final drafts before that final headline or tagline appears on a page. But that one line can make or break an ad, and having that ability to craft the perfect, compelling, relevant sentence is worth the investment in talent.
Too many people are flat, uninteresting, and vague in their communications – in their email body and subject, in their LinkedIn profile, and of course, on their resume. When I was a recruiter, the resume submissions got my attention were the ones that spoke specifically to the job I was recruiting for, but using similar verbiage to uniquely and specifically describe the candidate.
Don't just tailor your resume to fit the role; use strong headlines and lead-ins that are attention-grabbing and specific. Also, anyone who demonstrates that level of effort in marketing themselves already had earned a preliminary second look.
Hypothetical example: I'm recruiting for a graphic designer with 8 years of integrated (digital and print) experience, and they must have prior experience working in the pharmaceutical and healthcare sector. On top of that, I want someone who has worked for both big advertising agencies and in-house for the types of pharma clients they're likely to be serving. An email that would get my attention has a subject line that basically speaks to those core criteria, and sounds something like this:
"Graphic Designer, 8+ years integrated experience in pharma, client & agency side"
or…
"Senior integrated designer, extensive client/agency pharma experience"
or…
"8+ years print/digital design experience specializing in pharma, agency & in-house"
Examples of Compelling Job Search Headlines
These are also great examples of compelling headlines you might use on your LinkedIn or social media profiles, particularly if you're in-between jobs or actively looking for a position similar to the one above.
It's effective for four reasons:
It tells me exactly what you do, and where your specialization is: you're a graphic designer who has both digital and print expertise and is looking to continue in that direction (integrated)
It tells me whether you meet the level of the role: 8+ years experience, or senior-level
It tells me what industry vertical you specialize in: pharmaceuticals
It reveals additional small details that are important: you've worked on both the agency and client-side, and likely bring a well-rounded knowledge of the business relationship and the parties involved.
Of course, you can address these things in the resume or cover letter, but the point is to draw in your audience at the very first point of introduction. No doubt you've experienced the challenge of having your application sit in an inbox with hundreds of other potentially qualified candidates. The fact is that even the best candidates go unnoticed on occasion due to the application volume alone.
The key to standing out and making the cut is less in timing and more in the details, and your profile/email/resume headline is your initial selling pitch, so leverage it accordingly.
Craft an Attention-grabbing & Specific Headline
Have similarly branded variations to fit the different requirements of each platform: Your LinkedIn profile headline allows for 120 characters, Twitter and Pinterest 160. The actual verbiage can vary slightly, but make sure you're conveying the same message across all platforms.
Use a job title similar to what you're looking for, but that also keeps the door open to advancement and other opportunities. In other words, don't pigeon-hole yourself into a singular title. This can be a headline or a short description. For example: "Senior designer with strong Hispanic and general market experience." While this person is interested in promoting their Hispanic market experience, a niche in advertising, they're also leaving room to be considered for general market positions as well.
Omit any negative language that doesn't point back to your strengths and expertise, such as "unemployed" or "in transition".
Use meaningful keywords that speak directly to your value. "Senior sales executive with 15 years of experience" is kind of flat. "Award-winning sales executive specializing in B2B business development" gives me a little more context around what makes you great, and where you specialize.
Your headline, whether on your LinkedIn profile, your email communications, or your website, is a key marketing tool that often gets overlooked. Utilize this prime real estate to its maximum advantage. It's the very first piece of information people will come in contact with about you, so treat it like you would the first impression upon meeting someone: what information would be most relevant to your audience to know, and what ideas about you will they be left with once they leave?