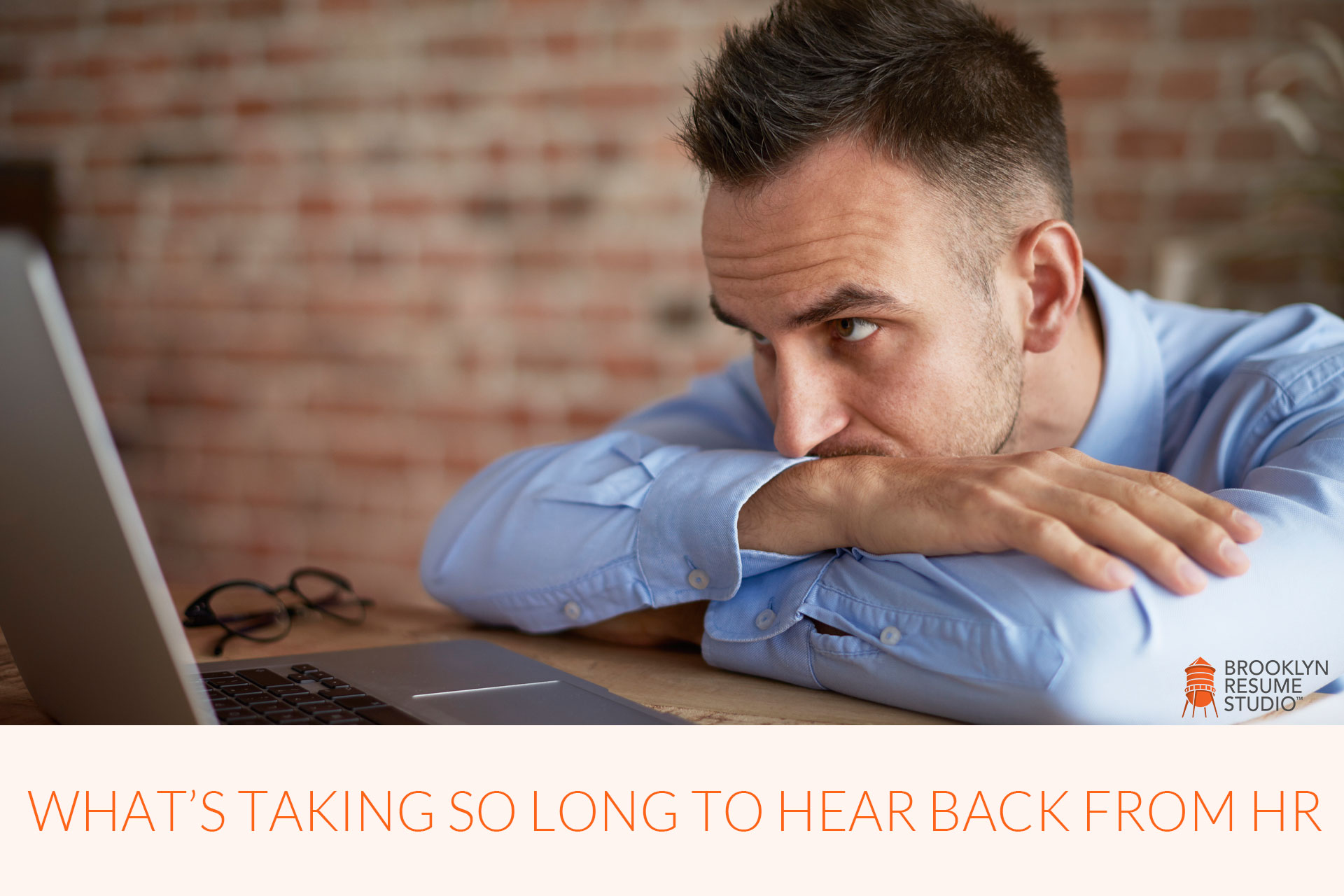 One of the biggest frustrations I hear from job seekers is what's taking so long to hear back from HR after submitting their resume to a job posting. The job search process can be a lengthy one, full of variables, scheduling considerations, and multiple parties involved. This causes a lot of anxiety for job seekers who are eager to find their next opportunity or move out of their existing role.
It's important for job seekers to understand the inner workings of the job search process. While every company and hiring manager is different, setting realistic expectations for your search can alleviate some of the stress and anxiety that comes with navigating the job market.
As a recruiter, I spent a decade managing complex talent searches for organizations ranging from small creative agencies to Fortune 100 corporations. Often, a disconnect in expectations between the hiring manager and the talent can mean a missed opportunity to hire the right candidate or secure a lucrative position.
Having the right skill sets and experience are major factors in successfully navigating the job search process. But going into the process with realistic expectations and a basic understanding of the challenges and considerations that hiring managers face will set you up for even greater success as a candidate.
To help with this, I've outlined the lifecycle of an average job opportunity, and what to expect at each stage of the recruitment and interviewing process.
Please note, this is loosely based upon a typical scenario within my own first-hand hiring experience, and results may vary depending upon the complexity, urgency, and nature of the search.
The Average Lifecycle and Stages of a Job Opportunity
Day 1: Internal Recruitment
Applications start to come in within minutes of the job posting going live. The volume will depend heavily upon the level, niche, and complexity of the role, and the availability of talent that fit this skill set. As the recruiter managing the hiring for this position, I am responsible for coordinating all stages of the interview and selection process. >
First (if my company dictates), I have to phone interview candidates who were referred or recommended by an internal associate before the job opening is advertised publicly. This includes internal referrals from other employees, as well as existing staff members who might be considered for a promotion, as well as those who may have interviewed with our company previously for another role and showed promise. Even if I identify a potential match, I still have to review and interview external candidates before recommending the next steps to the hiring decision-makers.
[2 days pass…]
Day 3: Develop a Short List of Internal / Referred Candidates
I set up in-person interviews for next week with the early bird candidates who seemed to have good potential based on my phone conversation with them. This could take several days to several weeks before moving onto the next stage. In the meantime, I will continue to review incoming applicants that meet the core criteria.
[4 days pass…]
Day 7: Develop a Short List of External Candidates
The job description has been posted publicly for several days via the company website, social media channels, and external job boards. I've already made a shortlist of candidates from the initial applicants that fit the core criteria, and that I'd like to phone screen for further consideration.
I am still dealing with the challenge of sorting through hundreds of resumes from outside candidates while reviewing the initial employee referrals and internal candidates. This is typical of most hiring scenarios, so it's important as the applicant/candidate to be patient and respect the recruiter's time. Additionally, many recruiters are hiring for more than one position, so their time to respond is limited.
Do not follow up immediately after you submit your application, and do not expect an acknowledgment that your resume was received (or rejected). Unfortunately, due to the typical high volume of applications, most recruiters simply do not have time to respond to each candidate individually and must focus their time on connecting with those whom they intend to move forward in the interviewing process.
With this in mind, make sure your branding message is clear and direct. Do not leave it up to the hiring manager to determine which role you are applying to, or why you are a fit. It's critical that this comes through immediately in your resume and cover letter, and that both documents speak to the requirements of the role.
Hiring managers and recruiters do not work on "potential". Their job is to generate a return on investment by identifying the candidates most likely to succeed in the role based on the skill and experience requirements.
In other words, don't send a 4-page resume and expect me to read through the whole thing. Have a killer summary statement that opens up your resume, draws my interest, and compels me to keep scanning because you seem, initially, as a good fit. And repeat this information in the body of your email. Make sure your resume is optimized for readability. Don't cram too much information on the page, make sure sections are neatly defined, and each section speaks uniformly to your overall branding message.
[2 days pass…]
Day 9: Coordinating Initial Phone Interviews 
The phone interview is typically the first stage in the interview process and largely designed to see what candidates meet the basic qualifications and weed out those who do not. As the candidate, it's important to show urgency and prioritize making room for the interview. Chances are the director, manager, or whoever is responsible for making the hiring decision on you only gave me 2 or 3 timeslots they're available to review candidates within the next two weeks.
[1 week passes…]
Day 16: Coordinating In-Person Interviews (With HR / Recruiter)
I have phone interviewed several dozen candidates to eliminate non-fits, and to pre-qualify candidates with strong potential to move on to the initial in-person interview phase. The initial round of in-person interviews is typically conducted with a recruiter or HR team member to identify top candidates before moving on to second and third-round interviews with key team members and managers.
This process usually takes several weeks. I've seen it take several months. As the candidate, don't get discouraged if you're still waiting on an invite to come in to interview, it could be on its way.
[2 weeks pass…]
Day 30: Coordinating Second-Round Interviews (With the Team)
I have coordinated and partially completed the first round of in-person interviews, which is usually with either myself, someone who works under the hiring decision-maker, or both. The second, and hopefully final round, will be with the decision-maker themselves. This is likely to take several weeks. And no doubt, some key player is out on vacation, so feedback is delayed for several more days. We can't proceed without the feedback and opinions of everyone on the team who will interface with this new hire.
[2 weeks pass…]
Day 44: Multiple Candidates Identified / Team Interview
Out of the first round of interviews, I've identified a handful of candidates who met the core criteria, aced the phone interview, passed the initial in-person interview with HR, and are now primed to meet with key members of the team in the second round.
I set up a second or final interview with the team, and potentially the hiring decision-maker. Often, they're also the person to which the candidate will be reporting in the role, and this person will be evaluating both their skill/experience and culture fit.
Hopefully one of these candidates will end up being hired. Otherwise, I have to go back to the drawing board and see if there's anyone else I liked whom I can pass through to the next round. Sometimes I have to start from scratch, since it's typically been several weeks at this point, and many of my potential candidates have disappeared into the arms of another job opportunity.
[2 weeks pass…]
Day 58: Top Candidate Identified / Final Interview Completed / Offer Extended
In an ideal world, one of my first-choice picks who moved on to round 2 of interviews impressed the hiring decision-maker enough that she wants to extend an offer. But we'll finagle a bit about the salary first. Because even though the candidate was upfront that she wants $60,000, and everyone involved in the hiring process was already aware of this, the decision-maker decides she doesn't want to go over $55,000. But she's willing to offer a tiered bonus plan structure in place of that last $5000. Now I have to go back to the candidate and convey, "Congratulations! We want to hire you. BUT…"
Let's talk about compensation. We will either go up in salary to meet your requirements or try to negotiate based on additional benefits and perks that the company offers, with potential for growth.
[1 week passes…]
Day 65: The Job Offer
After a week of going back and forth about the bonus structure, a deal is finally struck, and an offer letter goes out with all the details of the job offer.
[2 weeks pass…]
Day 80: Welcome aboard, new hire!
Once again, this is a generalized overview of the hiring process and the variables that factor into the talent acquisition and selection process. In my experience as a recruiter, I have seen candidates hired within days of a job posting, and other opportunities remain vacant for months due to factors like prioritization, urgency, budget, or lack of talent.
Understandably, this process can be frustrating for job seekers who are eager to find their next opportunity, excited about a potential dream job, or who are navigating career transition or unemployment.
The best strategies a candidate can take to optimize their chances of success is to create a strong resume and application package tailored to the organization and role; have a polished, updated, and publicly visible LinkedIn profile that complements the resume; and brush up on interviewing skills in advance.
Haven't interviewed in years? Seek out a friend, colleague, or hire a professional career coach to help you assess your performance and identify any weak points in your presentation. Plenty of qualified candidates lose the job opportunity in the interview stage because of poor or unconvincing performance.
And if you are one of the lucky ones to advance to the interview process, always be sure to send a thank you or follow-up email to team members within 24 hours of your meeting.
WHAT'S NEXT?
A solid resume is the key to landing the job interview. Check out our suite of resume and branded content services.
Do you need help crafting an impactful digital brand presence? BRS offers professional design services to help you create fresh, creative, and professional websites, infographics, logos, and business cards to complement your resume and other job search marketing materials.