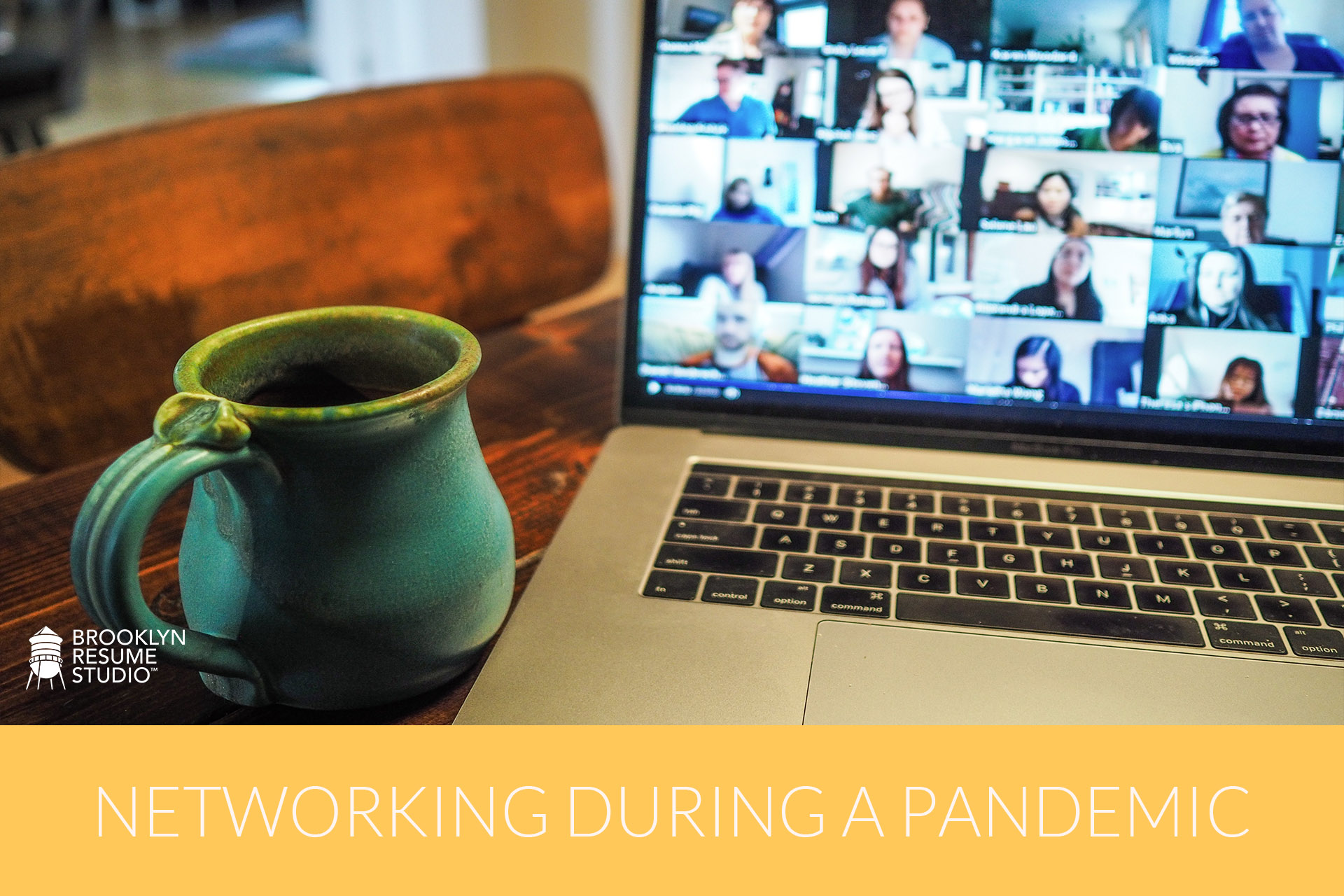 By David Wiacek, BRS Senior Resume Consultant & Contributor
Finding a job is already a daunting process even under "normal" circumstances, to say nothing of the massive wrench that the pandemic has thrown into the mix. Due to the volume of recent furloughs and layoffs—and even entire industries being decimated almost overnight—the competition for jobs has become stiffer over the last year.
While despair might seem like a default reaction to the hard times, there are several simple steps you can take to gain an edge and give yourself the best chance possible at landing that next job. And, surprise, surprise—it all starts with networking.
Face to Face, But Virtually.
With face-to-face contact at an almost standstill, many professionals have found it challenging in the last twelve months to forge meaningful new relationships or even maintain existing ones. Pre-pandemic, it was easy enough to grab a quick coffee with a co-worker or schedule a lunch or post-work drinks with someone you admire.
Scheduling those so-called "informational interviews" in person meant you could catch up, share some laughs, and deeply fortify those relationships. Even if you were actively seeking employment, you could do all of that without outright asking for a job, which might sometimes be inappropriate and often awkward. But the person on the other side of that coffee table could read between the lines, and would help you with insights and job referrals whenever they could.
This is a bit tougher now, what with lockdown and social distancing. Yet these unfortunate circumstances of social isolation are no excuse to let your network atrophy. In fact, this is all the more reason why you should be thinking about amping up your networking game. Many people have used quarantine as a reason to get fitter and healthier, but have you been applying the same level of discipline to your own career development or job search?
Whether the job market recovers quickly or stays ultra-competitive, in either case, you'll want to be at the head of the pack. Below is a quick list of critical to-do's that will help you put your best foot forward and position yourself as a top candidate–pandemic or not.
1) Update Your Resume AND Your Elevator Pitch
Dust off that resume, update the document with your current experience, and make sure the career summary at the very top is dynamic and relevant to today's marketplace. Also spend some time on your LinkedIn profile, making sure you have a vibrant, updated profile photo, background image, and keyword-rich headline that describes the value you bring to the market.
In addition to updating your resume, do some work on your elevator pitch, so that when someone asks how they can help, you can give them clear guidance on the types of roles you're looking for. Practice your existing pitch, or start crafting one that speaks to your core skills, experience, and value you bring to the table.
2) Brush Up on Your Interviewing Skills
If you have been out of practice for a while, it might be helpful to warm up your interviewing competencies. In fact, you might even apply to a "test" job that isn't perhaps your dream job, but where you can flex those interview muscles, so that when the dream job interview comes up, you'll be primed and ready. Practice with a friend. Hire a career or interview coach, if your partner or friend isn't up to the task.
Speak up and speak clearly – video causes some of the nuances of in-person conversation to be lost, so be sure to exercise a strong, confident and assertive voice. This is not just about the elevator pitch at the start of your call—you'll want to maintain that level of confidence and engagement throughout your conversation. People are attracted to positive, confident people. If you're all over the place, too meek, or too frenetic on the phone, people (especially strangers), might not be so inclined to help you find a job.
And don't forget to take measures to prevent "Zoom Fatigue"… you'll want to be sharp, especially when videoconferencing with people you don't know well.
3) Make Authentic Connections
Networking can happen in any situation. But if you feel like you've exhausted your existing network, it's time to dig elsewhere. Try reaching out to people in wildly different industries or job functions. You can learn a thing or two, and you might discover that they know someone in your preferred industry or discipline. Don't limit yourself just to people already in your echo chamber. Sometimes going out on a limb reaps the biggest benefits. Virtually every self-help book talks about going out of your comfort zone… and doing one thing every day that scares you.
Be authentic, but tread lightly. If you're having a rough time of it, don't feign that your life and mindset are pretty. It's okay to be a little bit vulnerable. These are challenging times for many people, and authenticity can actually help you build great rapport with the person on the other end of the phone line or video screen. If you share something meaningful about your experience or career, the other person is much more likely to reciprocate, or at least appreciate your honesty. You'll be top of mind if they do hear about a relevant job opportunity.
4) Build Your Network Through Volunteering
If you're unemployed or simply unfulfilled at work, the pandemic has opened up so many opportunities to volunteer. You can do so in person or, if you feel more comfortable, through phone and video chat. There are so many people who could benefit from a friendly voice. By networking, you'll feel good about yourself, you'll make someone's day, and you might potentially make additional contacts to build your own network. A true win-win.
5) Attend Digital Webinars or Conferences
Even without the one-on-one of in-person networking, you can still build valuable  connections by attending an online webinar or conference. There are plenty of opportunities to listen, learn and connect online. Find a webinar or conference in your target industry. Absorb what people are saying. Say hello, and continue the conversations offline (e.g. find the people on LinkedIn, exchange emails or phone numbers, where appropriate). You may just find your next opportunity, or learn about an interesting company you hadn't considered.
6) Put Your Best Self Forward
An under-energized, unfocused candidate is unlikely to wow a prospective employer or even a networking prospect during a casual informational interview. While people are much more understanding of personal / mental health challenges during difficult situations like the pandemic, you'll still want to make sure you're taking care of yourself and putting your best version of yourself out there.
Are you doom-scrolling through self-care articles, or actually putting their advice into practice? Get good rest. Eat well. Exercise regularly—you know the drill. If you don't do these things, it may be affecting your networking and interview performance more than you think.
7) Explore a New (Digital) Environment
If you've done all of the above, and you're still finding it difficult to network during the pandemic, try a new approach. Try joining an app like Clubhouse. Find your tribe. Connect with people in non-professional contexts. Maybe join a virtual knitting or kite-building club—find something you genuinely enjoy. You'll be happier, and more likely to engage in organic, natural relationship building—the best, lowest-stress, highest quality networking there is!
Networking is one of several prongs in your job search strategy, and a valuable way to build connections that may lead to introductions, interviews, and job opportunities. There are plenty of venues to start having conversations, connect with peers, and build your network without going far (or anywhere at all). And as a bonus, it's a great way to practice speaking about yourself and your skill set in a professional setting.
What Next?
Ready to amplify your job search and start getting better results? Contact us to discuss how we can help you build a winning resume and boost your interview performance.