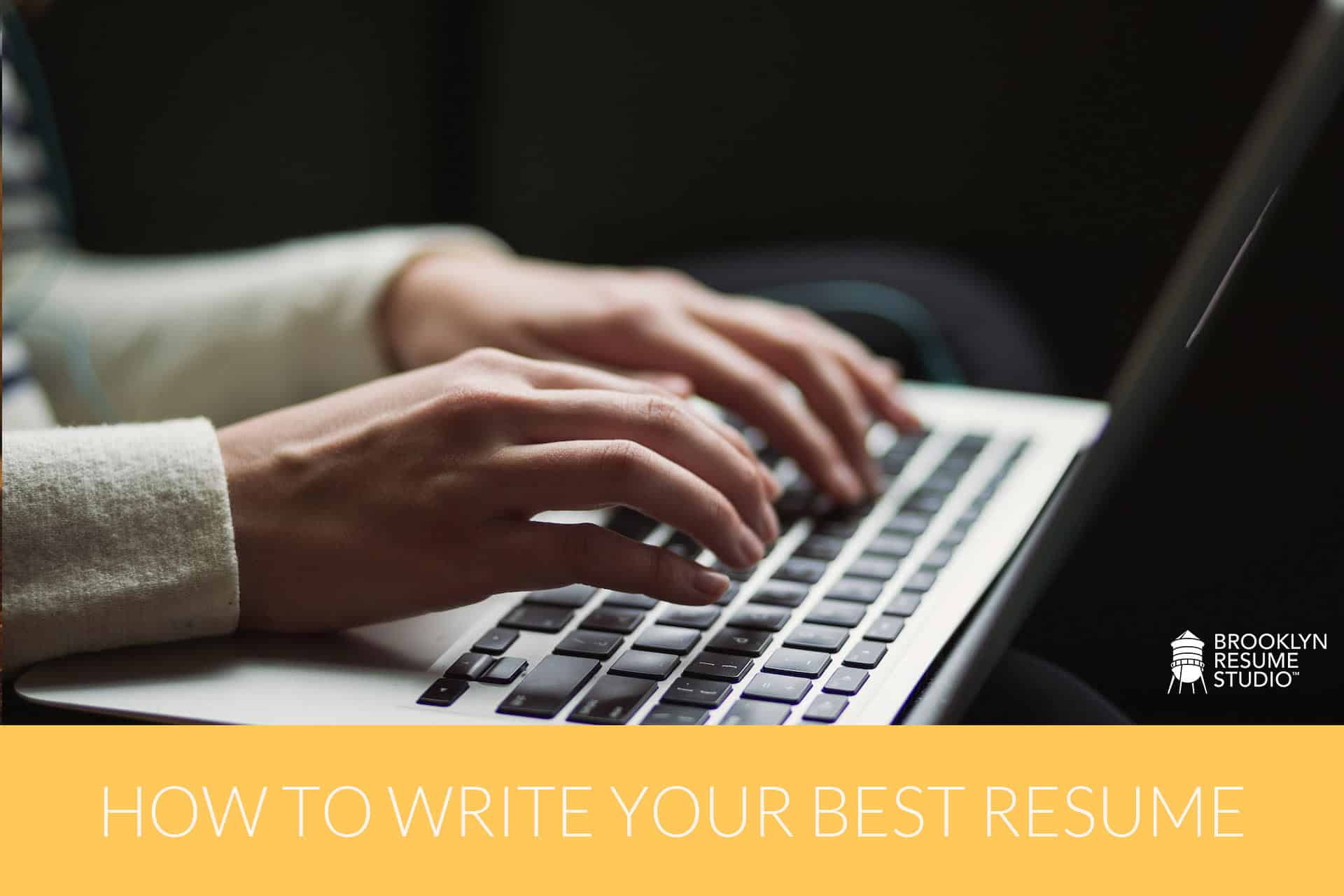 The resume is the cornerstone of your personal brand, and the first step in the job search process. Whether you are new to the job market, looking for a new opportunity, or changing careers altogether, having an effective resume that articulates your experience, skill set, and impact will determine whether or not you get an interview.
So how do you write a resume?
Summarizing your entire career and professional background can be a daunting task unless you take a strategic and organized approach to building the resume.
Whether you're updating an existing resume or creating one from scratch, I've outlined the key steps to get you through the process from start to finish, sharing my most effective and straightforward strategies from more than 15 years as an executive resume writer and former recruiter.
What We Will Cover:
•  The number-one goal your resume should achieve
•  What to include (and omit) in your resume
•  Key sections to that make up the resume
•  Formatting tips to make your resume easy to scan
The Purpose of the Resume
If you want your resume to work, it's important to first understand what its primary purpose is. Plain and simple – the core function of the resume is to get you to the interview stage. It does this in 3 ways:
• Communicating your core qualifications for the role
• Highlighting your most relevant skills and experience
• Demonstrating previous success through examples and metrics
In order for the resume to be effective, it should follow a few key rules:
DO:
•  Customize the resume to each role by mirroring language and keywords
•  Back up your responsibilities with examples
•  Use powerful action verbs that describe the task and result (Led, Directed, Initiated, Enhanced)
•  Include only information that's relevant. Including jobs that are outdated or unrelated to your target may clutter the resume. Always ask: "Does this experience add value to the story?"
•  Be consistent in your formatting
DON'T:
•  Exceed 1-2 pages depending upon experience
•  Include photos or images that detract from your message
•  Include personal demographics (date of birth, marital status, nationality) – while this is common practice in other countries, it is not standard for a US resume
•  Go into detail around employment gaps or terms of departure
•  Go into extensive detail about the company – focus on YOU
•  Include references – those will come later in the process
How Should I Format My Resume?
A resume should be 1-2 pages in length depending upon your experience level, and how many jobs you've had. I typically see candidates going onto a second page once they've hit 8-10 years of experience.
Always list your experience in chronological format starting with the most recent or current role.
Ensure that your resume is consistently formatted in all sections – including margins, spacing, font sizes and types. Use formatting elements such as bold, underline, italics, caps, and colors sparingly so that the resume is easy to read.
Think about hierarchy when presenting the information. Separating sections out with headers that are easy to scan will make the resume more effective for your reader. This includes proper spacing between sections so that a reader can efficiently digest the information. See examples here
You can include color in a resume if used sparingly – and if it's appropriate for your industry. Choose no more than one color and use it consistently in certain sections – such as headers or for company names. Ensure that it's a color that is easy to read both on screen and on paper – light colors like yellow and orange can be difficult to view.
If you need guidance, use a resume template. You can find many online for free, and most word processing programs (Word, Pages, Sheets) include template options.
Finally, always save and send your resume as a PDF to preserve the formatting. Microsoft Word documents don't always display correctly when opened on different computers and software versions. A PDF will ensure that your resume looks professional and polished.
Save the document with your full name and date in the title so that it's easy for a recruiter to reference, such as: Dana Leavy-Detrick – Resume – Oct2022.
What Information Should Be Included in the Resume?
The resume should outline your experience, skill set, and other qualifications for the role. In most cases, you will want to include the following sections:
1) Summary Statement
This should be a short, 3-5 line or bullet point section that gives a high-level overview of your experience level, your skill set, and your core qualifications for the role. It can also reference soft skills or attributes that you bring to the table, such as leadership, work ethic, and attention to detail.
You can also use this section to strategically include keywords from the job description, which will increase the chances of your resume getting through ATS (Applicant Tracking System / Software) filters.
2) Skills or Areas of Expertise
This area should articulate your hard skills, which are the skills directly related to your role, such as design, sales, project management, or team leadership. They can also include technical skills (software, equipment, hardware, programming languages), physical skills (lifting, driving, filing) or languages that you speak. Display your skills in a list or in a line format that is easy to read. See examples here
3) Professional Work Experience
The Work Experience section generally refers to paid work such as full-time or part-time roles, internships, or freelance / consulting experience. This section should emphasize jobs that are directly related to the roles you're applying to, and each job description should be consistently formatted with your job title, company name, location, and dates of employment. Included a brief overview of your day to day responsibilities, ideally backed up with examples, projects, accomplishments, or metrics that show results. You can use bullet points or paragraphs – just make sure the text is clean and easy to read.
In most cases, military experience would also fall under this section, as it can speak to additional skills or leadership background that you bring to a role.
4) Education & Training
This section can include any type of educational training whether that's a college or university degree, high school diploma, professional training courses, workshops, seminars, online classes, or partially completed degree programs. You may include training that was provided as part of your job, or courses you took outside of your role.
Recent graduates should place the Education section at the top of the resume, along with their recent or expected graduation dates. If you are a current student or recent graduate, you might also include extracurricular or academic activities, clubs, related coursework, or awards.
The goal is to portray yourself as a well-rounded candidate who has the necessary skills and training to do the job.
5) Other sections you might include on the resume:
•  Volunteer or Pro-Bono Work (if applicable)
•  Memberships or Affiliations (Personal / Professional – if relevant)
•  Awards (if applicable)
And of course, don't forget to include your updated contact information, including your phone number, email address, LinkedIn profile URL (if applicable), and your professional portfolio (if applicable). You can include your full street address, but it's also acceptable simply to denote the city, town, or regional market where you live (i.e. "Brooklyn, NY").
How Do I Write a Job Description?
Job descriptions should highlight the day to day responsibilities while also showing the results of your work. Focus on communicating results over tasks using the PROBLEM – ACTION – RESULT format:
•  Action Verb
•  What You Did
•  Description of Results
A task-focused description would look like this:
"Entered customer information into the database"
A results-focused statement is powerful, as it speaks to both the task and the outcome:
"Utilized Microsoft SharePoint to create a more organized system for accurately tracking customer data."
Keep in mind that not every task needs to be highlighted in your job description – if it's outdated or irrelevant, don't include it. Focus instead on the responsibilities and outcomes more relevant to the role you're applying to.
Highlight any promotions, titles changes, and increases in responsibility. Emphasize special projects you worked on, teams or committees you were part of, or anything else that speaks to going above and beyond in your role.
Finally, keep the job description concise enough that it's easy to read. Acceptable resume formats can include short paragraphs (3-5 sentences), bulleted lists, or a combination of the two.
How Do I Optimize My Resume for Keywords?
Using the right keywords can make or break your resume. Some companies use software known as Applicant Tracking Systems (ATS) to screen resumes based on keyword matching. If your resume doesn't include the right keywords in the job description, it may get rejected before it even reaches a hiring manager.
So how do you know what keywords to include in the resume?
The best approach is to mirror the language of the job description you are applying to. Identify the keywords that are most heavily emphasized, and include those in the Summary, Skills, and Experience sections of your resume.
You can also utilize a free online scanning tool like jobscan.co to gauge how closely your resume matches a specific job description, and where you may be missing opportunities to optimize it based on keywords.
In Summary
The resume is the most important part of your job search portfolio – it's the first impression a hiring manager or recruiter will get of you, and it's critical that you tailor it to the role you're applying to.
•  A resume should include several key sections, including a Summary, Skills, Professional Experience, Education / Training, and then optional sections such as Memberships, Awards, or Volunteer Work.
•  Focus on "Results" versus "Tasks" in your job descriptions. Keep them concise and include only the points that are relevant.
•  Format your resume in a way that is consistent and easy to read. Be aware of consistency in formatting elements, avoid unnecessary graphics, and be mindful of font sizes and colors.
•  Make sure your resume is keyword optimized by reviewing the job description, identifying the key phrases / words, and including them throughout the resume.
In the next part of this series we will focus on Writing an Effective Cover Letter and Setting Yourself Up for Success in the Video Job Interview.
Ready to Take the Next Steps?
Contact us for a free quote and for more information on how we can help you create a winning resume and brand presence that gets results.