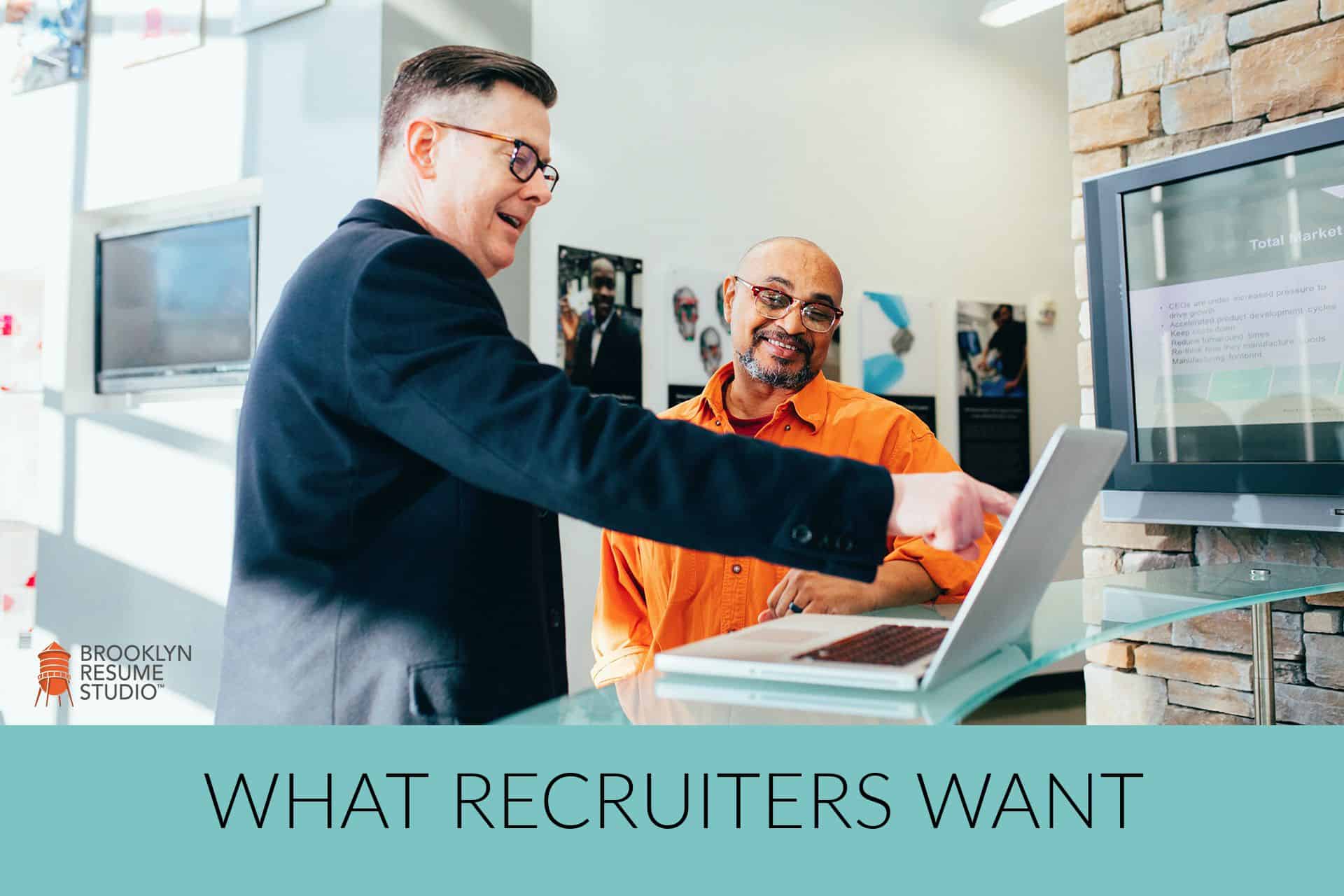 I was a recruiter for 10 years before I became a full-time resume writer and career consultant. I worked primarily in the creative industry, placing freelance and full time talent that ranged from graphic and web designers, to copywriters and proofreaders, marketers, brand strategists, art directors, and creative directors. 
Recruiters are one of the best sources of information on the job market and hiring trends. Because they're in the field every day, sourcing, qualifying, interviewing, and hiring talent across all different industries. That's why I like to tap into my own network of recruiter colleagues regularly to get their take on what's changed, what's hot right now in resume trends, and other strategies job seekers can take to get a leg up in the market.
A couple of recruiters recently shared some great advice, as well as dispelled some common myths and misinformation around job searching, resumes, and the best way to present yourself as a job seeker.
Tip #1: Don't Apply to Jobs that are More than 2 Weeks Old
You may be perfectly qualified, but sometimes it's simply about timing. Once a position has been posted, recruiters can get flooded with applications within minutes. By the 2-week point, recruiters are already well into the selection and interviewing process, and have likely compiled a short list of candidates to reach out to. Most likely, they will exhaust that list before reviewing any new applications.
Do This Instead: Set up job alerts on Google, Indeed, LinkedIn, and other job boards so that when a new job that meets your criteria is posted, you'll be among the first to know. Applying early is your best chance of getting hired. 
Tip #2: Focus on Hard Skills in the Resume
"Leave the soft skills for the interview," one recruiter remarked. Those include personal "attributes" or qualities, versus the functional (hard) skills that directly relate to your job function. I can't tell you how many times a client wants their personality "to pop" in the resume – and while it's important to distinguish yourself, the best way to do that is through hard skills alone. 
Do This Instead: Limit your focus on soft skills to one bullet in the summary section. Highlight 3-4 of your top qualities that you feel add the most value – whether that's intuitive leadership, being a team player, strong listening skills, or the like. Here's an example:
"Brings a high level of energy, enthusiasm, and passion to every role."
 Pull 6-8 job descriptions and highlight the most heavily weighted hard skills (hint – they're usually the ones listed first) and work those into the summary and skills section of your resume.
Tip #3: Avoid Using a Functional Resume
"Recruiters don't like functional resumes." Using one could actually work against you, in that a lack of transparency suggests that you're trying to distract from certain key details, such as a large employment gap. 
Do This Instead: Use a hybrid format that focuses more heavily on transferrable and functional skills, while still showing employment dates. Highlighting your skill sets front and center helps to set the tone of the resume while giving you flexibility to tailor the resume to different roles. 
Tip #4: Small Employment Gaps Aren't a Big Deal
"Hiring managers aren't interested in 3 or 6-month gaps", one recruiter emphasized. They're looking for a multi-year gap (1 year or more), in which you were out of the job market altogether, and might lack the updated skill set and knowledge of the industry they're looking for. 
Do This Instead: Removing dates on the resume is a red flag. If you're concerned about an employment gap, remove the months and only list the years in your dates of employment. 
Tip #5: Ageism is Real
"We're not looking for anything over 20 years in most cases, so limit quantifying your experience beyond that," said one recruiter. If your experience overqualifies you for a role, consider leaving the number out altogether and more broadly describing your experience level. "Extensive experience leading top-performing marketing teams within global agencies and brands."
Do This Instead: If you are concerned about ageism and how far back to list dates in your resume, consider capping the Experience section at 12-15 years. You can add a footnote below that mentions previous experience while leaving out the dates. For example:
Previous Roles: Multiple design roles at Agency XYZ, Company 123, and Company Confidential.
Also be cognizant of listing software that is outdated, while emphasizing your proficiency in more recent tools that highlight technical skills. 
Tip #6: Include a Cover Letter if Asked for One (Omit it if Not)
One recruiter emphasized the way in which the role of a cover letter has shifted in today's market. "The purpose of a cover letter has changed in that it's less about illustrating your qualifications for the role, and more of a qualification tool. If they ask for a cover letter, include one. And if they don't, do not."
In other words, not including a cover letter when the job listing asks for one may immediately disqualify you from consideration, as this suggests to hiring managers that you're not attentive to detail, or simply choose not to put in the effort.
In Summary
The real key to getting your resume through the filter and into the short list is to understand what recruiters and hiring managers are looking for. In today's ultra-competitive job market, details matter and often make the difference between getting called back for an interview or getting cut. 
Success comes down to small details in your application, and we know exactly what to look for to ensure your resume stands out and checks all the right boxes. Contact us for a free assessment and to get started.